Beds and breakfast in Jura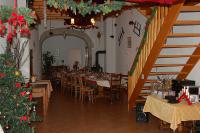 L'auberge pour les fêtes

In the heart of the lake country, Laurence and Philippe cordially welcome you to their home, a former family farm entirely renovated offering you a choice of 5 guest rooms comfortably classified 3 épis Gites de France (national classification). Allow yourself to be seduced by the space and size of each of our guest rooms, and come and partake in the charms and flavours of our table.

Fellow musicians do not hesitate to bring your instruments along (obviously a piano would be more difficult to transport!). With a total capacity of 15 people, we can accommodate small groups: senior citizens, friends, families, motorcyclists or sports enthusiasts...
We are open all year round by reservation, no matter what the season.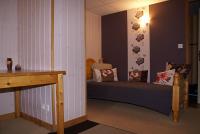 Room 5 lacs, kinder corner
Room 5 lacsOn the first floor, we have 4 spacious, cosy guest rooms (including one suite) that can accommodate 2 to 4 people, with bathroom and toilet. Each of our guest rooms bears the name of a lake and has been outfitted for your comfort and relaxation.

Three of them have a private lounge area. A guest room on the ground floor is outfitted to welcome persons with reduced mobility. In order to preserve the intimacy of each of our guests, our family rooms have both parental space and a children's corner.

Baby equipment is available upon request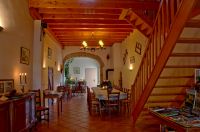 Table d'hôtesThe great hall (old barn) is transformed in the evenings into a warm convivial dining room. After a cross country hike in the snow, a simple walk in the country or mountain biking… , you will enjoy the specialities of our generous, regional cuisine such as the fondue Jurarassienne, the filet mignon with Bleu du Haut-Jura (local blue cheese), trout au gratin, morbiflette (local cheese bake), coq au vin and other delights. Many of our recipes are made with local wines (Côtes du Jura, Vin Jaune) and Jurassiens cheeses (Comté, Morbier, Bleu…).

During the warm summer months, we set up our tables outside on the terrace as soon as it is possible; in winter it is beside the cosy wood stove that we serve our meals.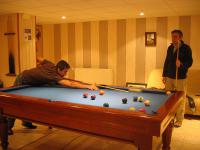 Partie de billard à l'auberge des 5 lacsTwo lounges are reserved for our guests: a mezzanine with a wooden decor with board games and a small library. The other lounge is on the ground floor where you can test your skills in a game of billiard or have some family fun around the dartboard.

Other available equipment :
Possible wifi connection.
A kitchenette is reserved for our guests.
Garage available for motorbikes and bicycles.
Mountain bike hire.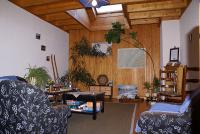 MezzanineSpecial offers :
With a welcoming capacity of 15 people you can privatise our guest house for your pleasure. Should you wish to organize a family celebration or reunion between friends, we can work out a solution together to ensure a successful and pleasant stay.
In our guesthouse friendship, good humour and conviviality are special guests contributing to the pleasure of all.
Laurence et Philippe COLOMBATO - Auberge des 5 lacs
66, route des Lacs à 39130 Le Frasnois - Tél / Fax : +33 (0)3 84 25 51 32 -
auberge@5lacs.fr