Lake of Ilay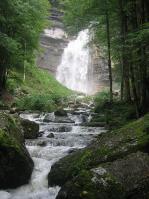 Le Grand Saut, Cascades du HérissonDiscover the Jura,
Spend time in Le Frasnois.
Our small village, Le Frasnois, nicknamed the village of the 5 lakes and 7 cascades, is located in the heart of the lake and mountain region of the Jura.
Our bed and breakfast guesthouse and cottages will allow you to enjoy a wide range of activities on the spot and in the nearby surroundings; all year round.
The Jura is known to seduce its visitors; who are often surprised to discover so much variety both in the landscapes and in the activities offered. Hiking, outdoor activities, museums, arts and crafts, homemade produce, stunning landscapes sculpted by waterfalls and peaceful remote areas, lakes and mountains… all the ingredients are in place for our guests to spend a relaxing, revitalising holiday. If you appreciate beauty, peace and quiet you will be wholly refreshed after your time with us.
Panoramic view above the lakes